Using a CRM for managing leads and customers is something that just about all businesses come to need at some point. You really can't keep track of everything in a spreadsheet or in a notebook to be successful. And please don't keep it all in your head. That's exhausting and you're almost guaranteed to forget something.
Hubspot introduced a CRM product almost two years ago at their annual INBOUND conference. We started using it then, switching away from other tools we had tried. Why not? It's free. Now that we've been using it for more than 18 months we can compare this to our experiences in Sales Force and honestly share the things that we have found to be most useful over any other tools out there.
Hubspot CRM is simple where a simple solution is needed and can be more complex if needed. And, did we mention, it's free? There's really nothing to lose. But if you're not interested in digging in to see the differences, here is our analysis of what we like about Hubspot CRM, primarily compared to Sales Force. (And, let me say up front, we don't receive compensation for bringing in any Hubspot CRM users. This is really just our take on what we like.)
1) No duplicate people in Hubspot CRM
Hubspot treats everyone as the individual that they are, and assigns them to a category such as lead, opportunity or customer. In Sales Force, you could end up with the same person in the system as a lead AND as a contact (customer). This gets confusing and often results in duplicated records. In Hubspot you don't have to worry about converting anyone from leads to contacts. You just have to change their status from lead to customer and all of their past history stays intact.
2) Hubspot CRM helps you prospect
When you start with Sales Force it's a completely clean slate. You'll enter all of the leads, customers and company information that you want tracked. When you start with Hubspot you're able to add leads, customers and companies. The ease of doing that is about equal. But what you don't get with Sales Force, or any other CRM that I know of, is a list of companies that you can sort to find new opportunities. You can sort by industry, company size, revenue, location and several other data points that let you decide who you'd like to research and reach out to.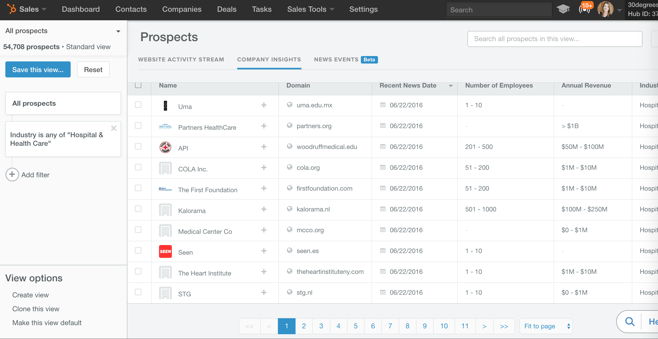 3) Customization is easy in Hubspot CRM
Both Sales Force and Hubspot allow you to add custom fields. But the process in Sales Force is a bit more complex, requiring you to first choose leads or contacts (often I've found I have to create the same field in both areas) and then adding it into the fields that you can view for a record. With Hubspot you don't have to decide whether lead or contacts (or both) will see the new field because it applies to everyone and can be made visible on a short form. But even if you don't add it to your short list of things you want to see, it's automatically part of the person's record.
In this example you can see that we've added a field to tell us more about the type of company this person works at. This is helpful for us as we sort through leads and create messages specific to different needs.
4) Unparalleled insight into lead activity
When you have a lead or a customer who comes back to your website, Hubspot CRM tracks everything they do in an easy-to-read screen. You can see which pages they've been to, what they've downloaded and which emails of yours they've opened. Next time you talk with them you can easily comment on their interests based on what they looked at on the website.
5) Hubspot CRM reporting is easy
When I look at our list of leads in the database, I usually only want to see those that belong to me. And maybe I only want companies that would fit our Billing/Practice Management company profile. Great. I can sort the list in moments and view it on the screen with the fields that I want to see most. I can also save my view so that I can come back to it later and export to a file if that's what I need.
How to Get Hubspot CRM
The full featured CRM and the online training are free. You don't have to use any other Hubspot software to get it for free. You can sign up right now and start using it in the next 10 minutes if you'd like. It's really that simple.
There are other tools that complement Hubspot CRM including Hubspot Sales and the inbound marketing platofrm. Many of the Hubspot Sales features are also free and we love them including:
Notification when someone has read your email (without the annoying read receipt)
A list of people who have visited the website that we can prospect
Integration with the CRM tool so that we can see what we know about someone when we're writing them an email.
If you're already using Sales Force it can be relatively easy to make the switch. And might be worth it to save the Sales Force fees that come with each sign in that you have. We can help you with that, if you'd like. Just click below for a free sales and marketing consultation. We can take a look at where you are now and talk about what might work best going forward.